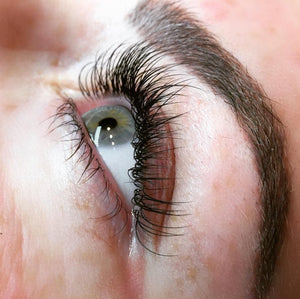 Email info@lashbae.ca for inquiries and to purchase.
No experience is required.
Learn Classic lashes in a small group environment. Class size is up to 4 students. 
The Classic Course is a two day training comprised of theory and hands on practice. This course covers: introduction to Classic lash application, opening your business and running it profitably, anatomy of the eye, sanitizing and cleanliness, growing your clientele, what it means to be fully booked and how to get there, minimizing stress and wear on your body, pricing strategy, advertising, search engine optimization, the science behind adhesive and retention, maximizing your earning potential, work life balance, how to lash faster, and more.
If you don't see the date or location you require, please email info@lashbae.ca to inquire about a date.
Choose the Classic Course option if you are new to doing lash extensions. No experience is required. Classic lash extension training is required to attend the Volume course.
Manual and Kit worth over $500 is included:

practice mannequin head
Hand Tested Sweet Spot Marked Lash Bae Tweezers (you will be able to test and choose the style that works for you)
Isolation tweezers - curved and straight
Tweezer Case
5 lash trays: 9mm-13mm
adhesive
Crystal Glue Trays
Fairest of Them All Mirror
Microfoam Eyepad Tape
Nexcare Sensitive Tape
paper tape
micropore tape
acetone jar
dropper for water
mascara Wands
doe foot lint free applicators
Saline Solution
remover
mini fan
Scissors Bae
Lash Cure - Cleanser and Makeup Remover
Lash Cleansing brush
Hygrometer
and other start up items
Certificate provided upon completion
Courses runs 10 am - 5 pm

You will need to provide a model at 1:30 pm

If you need help finding a model, please let me know 2 weeks in advance

Lunch will be provided

Ongoing support and mentorship 
Please note that fees are non-refundable but can be transferred to a different, mutually agreed upon date during the current year. Any changes to the course date must be made a minimum 2 weeks in advance.