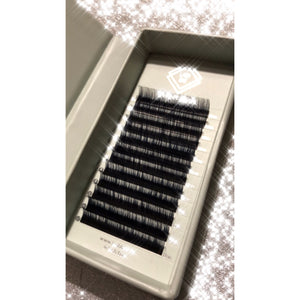 You guys asked for it... so we did it!!
Stock longer lengths to use as spikes for textured looks or have them on hand for your clients who just need more!
Need a slightly more matte finish? These lashes are for you.
Available in 8-25 mm and CC and D curl. CC is is a curl between C and D curl.
Shorter lengths, 5-7mm, are available in a mixed tray in the mixed tray section.
Have you been looking for a high quality Mega Volume alternative? This is it. These lashes fan like butter, spread smoothly and wrap effortlessly to create a fine pointed base.
Create gorgeous Mega Volume sets with these Velvet Mink Mega Volume lashes. These lashes are 0.03mm in diameter and are recommended for Mega Volume application. The strip is easy to work with allowing you the chance to relax and enjoy the artistry of lashmaking.
Due to demand for a thinner strip, these trays have a 2mm (thin) strip.
Each tray contains 12 lines
Deep black finish
Slightly matte finish
No blue tinge
Lasting curl
Available in D and CC curl 
Available in 8mm-25mm
What's the difference between Silk and Velvet Mink lashes? These words refer to the finish of the lashes. All lash extensions are made of Korean PBT fibre but Lash Bae Lashes come in three finishes. Two finishes are Satin Silk or Luxe Silk - a deep black slightly glossy finish. The other finish is Velvet Mink - a slightly matte finish. All finishes fan like butter and it comes down to personal preference when choosing a finish.