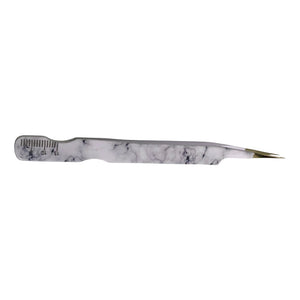 We made a straight isolation tweezer for those who prefer their isolation tweezer without any hint of a curve. This gorgeous tweezer is also made of the same new harder material as the Angel Baby Mega Volume and Volume pick up tweezer. Bring a little sparkle to your work day with this beautiful tweezer!
Marble and Gold Material
Very hard tip
Soft tension 
Please note that these tweezers are meant to be disinfected by soaking in solutions such as Barbicide, Pre Empt, Cavicide etc. They may not withstand extreme heat as found in sterilizing equipment. Please check your State or country requirements for cleaning lash tools. In Canada we are required to wash debris off with soap and water and then soak in disinfecting solution for the required time as noted on the bottle. Then we rinse and dry.