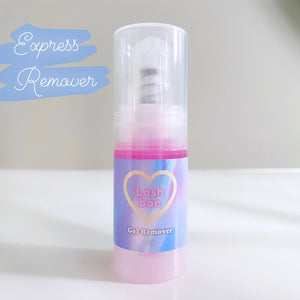 Upgrade to the super Express Remover to cut your removal times in half! Keep a remover on hand to ensure your clients won't have to go anywhere else.
Be sure to keep out of eyes and off of skin as much as possible. Sit clients up if eyes water as it can mix with the remover and seep into the corner of the eyes while a client is laying down.
Use: Apply to lash extension base in a thick layer. Allow it to sit for 5 minutes. Test to see if extensions will slide off. If there is any resistance, apply another layer and wait a few more minutes. Gently slide extensions off and wipe off remaining remover cream. Have client was well with lash cleanser and water at the sink.
Now comes in a pump for sanitary reasons.
For professional use only.