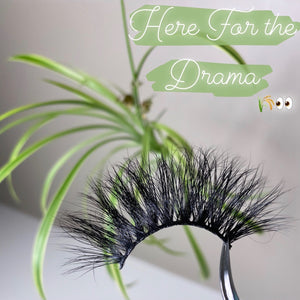 You want the thickest, longest there is. You don't play with those baby lash strips. Here is our most dramatic set of strip lashes. You're here for the drama. You make the drama. Whether you bring the drama or you're just here for it, wear these lashes and you're sure to cause a stir.

Lash strips may be reused up to 6 months.
Directions: 
Apply eyeliner and other desired eye make up. Carefully remove strip lash from case. With your finger tips, remove any excess adhesive from the band. Place lightly along your lash line to determine how much to trim off the strip lash. You want the strip lash to NOT go all the way to the inner and outer edge of your eye. This is for comfort when blinking. Trim any excess strip lash band at the edges and cut off a "bunch" or two from the outer edge of the strip. Flex the strip gently between your hands to soften up the band so that it may mold nicely to your eyelid. Now apply a layer of strip lash adhesive to the band of the strip lash. Too thin of a layer will cause the lashes to fall off prematurely.
DO NOT use lash extension adhesive or hair glue. It is recommended to use strip lash glue only! Lash Bae Strip Lash Adhesive will be available soon.
Wait for the adhesive to become tacky. This may take 15-30 seconds. If it is too wet it will just slide around when you try to place it. Gently place strip lash along your lash line so that the glue adheres to the eyelid skin. You made need to hold the strip in place for a few seconds. Lashes should blend with your natural eyelashes. Repeat on the other side.
Voila! You're a bad bish!
Care: Remove by pulling gently from your eyelid. Be careful not to pull your natural lashes. If you encounter any difficulty removing, saturate a q-tip with baby oil or make up remover and wipe gently along the eyelid and the base of the strip lashes. Immerse strip lashes in water and wash with lash cleanser and a lash cleansing brush. Rinse well and allow to air dry. Replace lash strips in case it came in to keep them clean. Reuse!
Please Note: Lash Strips are Final Sale for hygienic reasons.