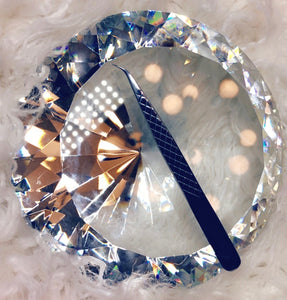 If you are new to volume - choose this tweezer!
If you prefer a boot / swan / axe tweezer shape or the majority of your work is Russian Volume, 0.05 - 0.10mm lashes or you use the roll or Lonely Fan Method - Choose this tweezer!
Your Volume Bae is all about control. She has a perfect grip with soft tension. Remain calm and collected during your volume service knowing your Volume Bae has your back. Soft tension ensures your hand and forearm muscles will not fatigue easily. Her angle is crafted with ergonomics in mind - she wants your wrists to last! She is curved with a small boot allowing for getting between your isolation tweezers and for easy placement for those tricky inner and outer eye lashes. This Tweezer Bae is sturdy, consistent and reliable - let her do the hard work while you enjoy the artistry of lashmaking. She is my favorite Tweezer Bae for Russian Volume.
Her Sweet Spot is very large so it is not marked. She can grab at many points on the boot but works best at 5mm from the tip.
Recommended Use:
Volume Bae is recommended for Russian Volume,  2-8D, 0.05mm - 0.10mm or Classic or Hybrid lashes. Volume Bae is not recommended for Mega Volume but she will work with 0.03mm diameter up to 15D.
Recommended Fan Making Methods:
Lonely fan

Fan and Grab

Pinching

Shimmy / Flower Bouquet
For visuals of various methods of fan making please view my Highlights on www.instagram.com/lash.bae.
Specifications
Brushed satin metal finish

Soft Tension

Hand tested by Lash Bae

Not Sweet Spot Marked because most boot is the Sweet Spot!
Works best at around 5mm from the tip
Please note that these tweezers are meant to be disinfected by soaking in solutions such as Barbicide, Pre Empt, Cavicide etc. They may not withstand extreme heat as found in sterilizing equipment. Please check your State or country requirements for cleaning lash tools. In Canada we are required to wash debris off with soap and water and then soak in disinfecting solution for the required time as noted on the bottle. Then we rinse and dry.